During the first half of the twentieth century, when many countries were either involved, or about to be involved, in World War I, gathering enemy intelligence was crucial to the war effort. With advances in wireless and cable communications made during the years before, attempts were made to intercept the coded messages and decipher them to discover what the enemy was planning. While several European countries had already established an expertise in this area at the outbreak of war, the US was continuing to drag its feet. By 1917, it was also preparing to enter into the hostilities, but its military was still comparatively small, and it had no dedicated code-breaking department. Instead, it relied on a small group of experts in decryption brought together by an eccentric millionaire at a mansion in Illinois.[1]
Within this group, working at the Riverbank Laboratories, were two women, whose achievements have previously gone mostly untold. The work of Agnes Meyer Driscoll was looked at in the previous article. This article brings to light the accomplishments of the other woman – Elizebeth Smith Friedman. Elizebeth was born in Huntington, Indiana, the daughter of Quakers John and Sophia Smith. In 1915, she graduated from Hillsdale College in Michigan with a major in English literature, but even at that point showed an aptitude for studying other languages, in particular, Latin, Greek, and German.[2] While still at college, she became intrigued by the controversial hypothesis that Sir Francis Bacon had been the author of the works of Shakespeare. Due to this interest, in 1916, she was recruited by its proponent, Mrs. Elizabeth Wells Gallup, and her patron, George Fabyan, to work at Riverbank Laboratories in Illinois. Wells Gallup was convinced that the works of Shakespeare and the writing of Bacon contained a 'bilateral cipher,'[3] and hired Elizebeth to help her with decrypting the works. It was while she was engaged on this project that she met and married William Friedman, who was also assisting Wells Gallup in decoding the cipher.
When the US entered World War I in 1917, Riverbank was still the only facility in the country with any expertise in cryptography. The military turned to it for help and sent several people there for training, including Agnes Meyer Driscoll (see the previous article). Elizebeth and her husband continued to work together at Fabyan's mansion, acting as directors of the code-breaking team, until they were offered a job in the War Department in Washington.
By 1923, Elizebeth was employed by the US Navy, shortly followed by a position within the Treasury Department's Bureau of Customs. This was during the Prohibition era, where the Volstead Act of 1919 prohibited the making, import (or export) and sale of alcohol. Big money could be made by those breaking Prohibition by smuggling illegal liquor from elsewhere. These 'Rumrunners' as they were known, used coded radio messages to hide their movements, something that Elizebeth Friedman knew she'd be able to help the Coast Guard with. Between 1926 and 1930, using just a pencil, paper, and her brain, she solved over 12,000 of their communications. Sometimes she also testified in court against the criminals involved, including members of Al Capone's gang.[4]
Such cases were high profile, and because of this she came to the notice of the country's press. She was called 'the pretty little woman who protects the United States'[5] and 'Lady Manhunter,'[6] although throughout she remained professional and modest despite the accolades. Because of her skill in seeing patterns in ciphers without the use of a machine, she became known as one of the best in her field. It was because of her standing that, in 1931, she was able to create her own code-breaking unit within the Coast Guard.
During World War II, Elizebeth's team switched to intercepting and decoding messages from Nazi spies infiltrating the countries of South America and Mexico. It was thought that the Germans were planning to attack the US via this route, and so the FBI needed up-to-date intelligence to try and counter the threat. Other triumphs included breaking the ciphers of three different Enigma machines, including one used by SS officer Johannes Siegfried Becker. Becker, codenamed 'Sargo,' was the officer in charge of more than 50 agents in South America. He worked from a base in Argentina and was considered to be the 'most dangerous spy in the Western Hemisphere.'[7] However, his plans to use agents to stir up discontent among the countries of South America and swing the political situation in favor of Nazism was about to collapse. The work of Elizebeth's team led to the destruction, not only of 'Sargo's' spy network but also of every other one operating in Latin America.
However, her sense of triumph was shortlived as President J. Edgar Hoover made sure that it was the FBI who took the credit for smashing the Nazi spy network. This pattern was repeated throughout World War II, with Elizebeth helping the FBI in bringing down both German and Japanese spies, only to have the agency and its boss claim that it had all been their own expertise. In fact, after the war, Hoover publicly promoted the idea that the FBI had led all the code-breaking efforts that broke the spy rings, even releasing a publicity reel called 'The Battle of the United States.' The files detailing her work were marked 'Top Secret Ultra' and buried in the National Archives until they were released in the year 2000.[8] Elizebeth's achievements, like those of so many other women code-breakers were, for many years, forgotten.
After the war, Elizebeth, aged 54, retired from government work and, for a short time, was a consultant for the International Monetary Fund. After her husband retired, they both worked on a book on the subject that originally brought them together at Riverbank – the Shakespeare/Bacon authorship controversy. The manuscript, originally titled 'The Cryptologist Looks at Shakespeare,' was eventually published as The Shakespeare Ciphers Examined emphatically disproved that there were any hidden messages in the playwright's works or that Francis Bacon was the real author. The book won the Folger Shakespeare Literary Prize and the Fifth Annual Award of the American Shakespeare Festival Theater and Academy.[9] They also worked together to organize their personal library of cryptological material, which they donated to the George C. Marshall Foundation in 1969.[10] It was also in 1969 that William died after a long illness. Elizebeth survived him by eleven years, dying on October 31, 1980, in a nursing home in New Jersey. Her ashes were scattered over William's grave in Arlington Cemetery.
William Friedman, like many other male code-breakers from World War II, has had his achievements well-documented. Elizebeth's own successful career was shrouded in secrecy until 1999 when she was conducted into the NSA Hall of Honor. In 2002, the NSA also dedicated its OPS1 building to both Elizebeth and William. Following the release of her secret files into the public domain in 2000, two books about her life were released[11], and in 2019, the US Senate passed Resolution S.Res. 133 'Honoring the Life and Legacy of Elizebeth Smith Friedman.'[12]
Elizebeth was one of those behind inventing the science of modern cryptology, which in turn is a crucial element of today's cybersecurity. It is ironic that, at a time when it is difficult to attract women into cyber-sciences, two of its earliest pioneers were Elizebeth Smith Friedman and Agnes Meyer-Driscoll. They should be held up as evidence that women can achieve just as much as men in a scientific discipline and can thrive in a male-dominated profession.
——————–
[1] Chris Baraniuk, 'The Female Code-Breakers Who Were Left Out of History books,' BBC Future, 10/10/2017, accessed at https://www.bbc.com/future/article/20171009-the-female-code-breakers-who-were-left-out-of-history-books
[2] The Elizebeth Smith Freidman Collection: Collection Guide (PDF), the George C. Marshall Foundation, accessed at http://www.marshallfoundation.org/library/wp-content/uploads/sites/16/2014/06/Friedman_Elizabeth.pdf
[3] A bilateral cipher is where a message is hidden in how the text is presented, rather than in its actual content.
[4] Simon Worrall, 'This Woman Saved the Americas From the Nazis,' National Geographic, 10/07/2017, accessed at https://www.nationalgeographic.com/news/2017/10/elizebeth-friedman-codebreaker-nazi-spy-fagone/
[5] Rebecca Heilweil, 'Elizebeth Smith Friedman: 'The Woman Who Smashed Codes,' Forbes, 01/06/2018, accessed at https://www.forbes.com/sites/rebeccaheilweil1/2018/01/06/elizebeth-smith-friedman-the-woman-who-smashed-codes/
[6] Simon Worrall, 'This Woman Saved the Americas From the Nazis,' National Geographic, 10/07/2017, accessed at https://www.nationalgeographic.com/news/2017/10/elizebeth-friedman-codebreaker-nazi-spy-fagone/
[9] Lambros D. Callimahos, 'The Legendary William F. Friedman,' (PDF), Reprinted from Cryptologic Spectrum (Vol 4 No1) Winter 1974, accessed at https://www.nsa.gov/Portals/70/documents/news-features/declassified-documents/cryptologic-spectrum/legendary_william_friedman.pdf
[10] The Elizebeth Smith Freidman Collection: Collection Guide (PDF), the George C. Marshall Foundation, accessed at http://www.marshallfoundation.org/library/wp-content/uploads/sites/16/2014/06/Friedman_Elizabeth.pdf
[11] A Life in Code:Pioneer Cryptanalyst Elizebeth Smith Friedman by G.Stuart Smith, published by McFarland & Co Inc. (05/30/2017), and The Woman Who Smashed Codes: A True Story of Love, Spies, and the Unlikely Heroine Who Outwitted America's Enemies, by Jason Fagone, published by Dey Street Books (09/26/2017)
[12] S.Res. 133 — 116th Congress: A resolution honoring the life and legacy of Elizebeth Smith Friedman, Cryptanalyst, www.GovTrack.us. 2019, 03/13/2020, accessed at https://www.govtrack.us/congress/bills/116/sres133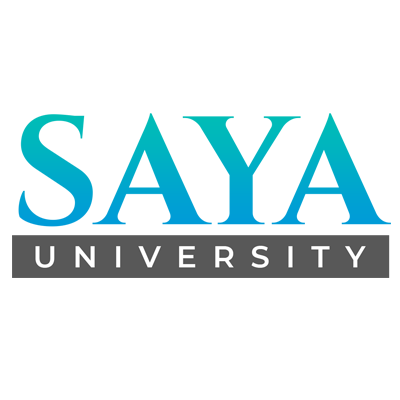 SAYA University is the multi-lingual "netflix of cybersecurity" that produces original e-learning programming in a variety of languages. Saya University is on a global mission to ensure every employee in the world has access to the tools that will heighten cybersecurity knowledge. When a company is serious about protecting its organization against cyber-attacks, it will invest in cybersecurity learning for all its employees. With over 7 billion people on planet earth, we have a lot of work to do. Our multi-language e-Learning platform offers the world's most cutting edge knowledge in cybersecurity, data privacy and compliance all in one place.